You Don't Have To Be In Amazing Shape To Get Started With Pole Classes At Studio 360
Are you tired of your boring, monotonous workout routine? Are you looking for something fun and exciting, where each session presents unique challenges and you've got an awesome community at your back? Studio 360 Pole Fitness and Dance is offering Pole Fitness groups that will help you build a powerful core, feel good about yourself, and melt your stress away!
Our Pole Fitness program is focused on building robust health, real core strength, cultivating a positive self-image and real personal growth, and connecting you with Jacksonville's most incredible fitness community. If you're serious about creating real change in your life, our Pole Fitness program will help you transform your life, your fitness, and your body!
Fill out the short form below to learn more!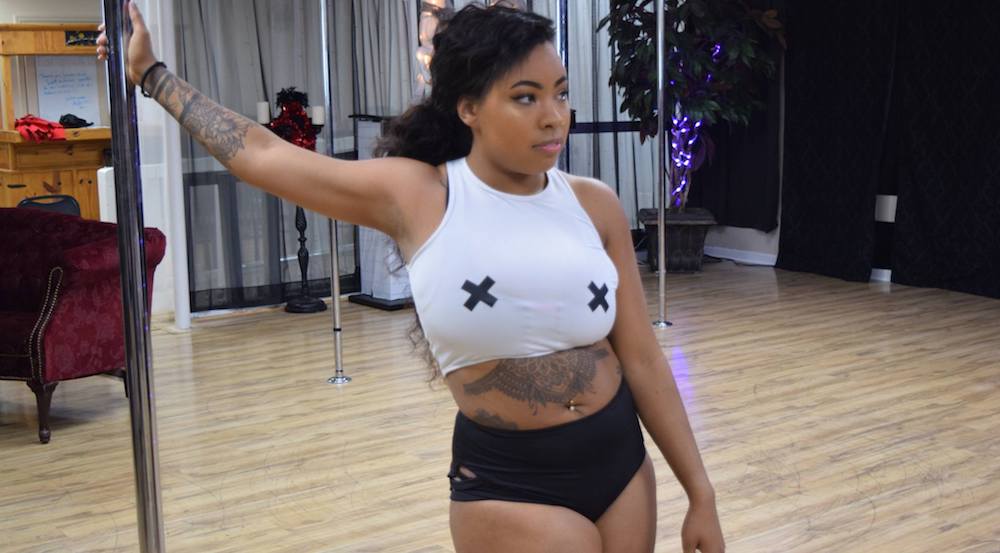 How Does Studio 360 Pole Fitness and Dance Offer A Comprehensive Pole Fitness Program?
We don't start with the crazy stuff. We incorporate fun workouts that build your strength as you need it. Over time, we will teach you spins and tricks on the pole, but we will safely pace everything so your body is ready for each new challenge.
This dynamic workout routine is unlike anything you've ever experienced before. At Studio 360 Pole Fitness and Dance, we're giving you the chance to take on high-energy workouts that focus on total-body strength training, sustainable fat burning, and incredible cardiovascular endurance.
We maintain small group sizes each and every day and offer tailored training strategies that can meet your unique fitness level and help you find success one step at a time. We also use a rotating curriculum so that means that you can join at any time. Our curriculum and classes are set up so an absolute beginner can jump in and start today!
Our Pole Fitness here in Jacksonville is offering you:
Lean muscle tone like never before so you can look and feel better from the inside out
Active flexibility to help get in and out moves easier, while also preventing injury
Dynamic and varied workshops that keep you motivated week after week
Professional coaching to help you get the most out of every movement and that is tailored to you.
By offering a variety of Pole Fitness training methods to women across Jacksonville, our mission at Studio 360 Pole Fitness and Dance is to meet each person's needs and help engender real positivity, personal growth, and sustainable fitness. Read more about our specialized pole fitness programs below!
Take A Look At What Pole Classes We Have To Offer
Pole Dance Fitness combines gymnastics, dance, and bodyweight training to create a full body workout that's fun, sexy, and athletic. Strength, grace, and sensuality combine on this vertical stainless-steel apparatus. Our Pole Classes break down various spins, dance movement, floorwork, and conditioning exercises.
INTRODUCTION CLASS
If you have never taken a pole dance class, this is where your journey begins. In this class you will learn beginner grips, spins, walks, and poses. Your instructor will go over proper body alignment and how to activate the correct muscle group according to the move you are doing. There will be instruction on how to use our studio poles safely (they can be set to static or spin) and what to wear to classes, what NOT to wear to classes, and information about how our programs work. It's a great time to ask any questions you have and to get to know the other new students who are getting started, too!
Sign Up For Your Intro Class
BEGINNER POLE
Our Beginner Level Pole Dance Class is designed to build upon the basics you learn in the Introduction Class. The warmups will focus mainly on the upper body to warm up and strengthen the muscles used to learn two handed spins, tricks, poses, and sexy floor work. This class uses the pole in static and spin mode. This is the level where pole students begin to dance in the air for the first time while building the strength they will need to make their movements fluid and graceful.
INTERMEDIATE POLE
In our Intermediate Pole Classes, you will work on climbing the pole and doing seated and upright tricks, one-handed spins, transitions, and floor work. You'll have continued expert instruction to help you master the skills you love most.
ADVANCE POLE
They say life is better upside-down. In our Advance Pole Classes, you'll find that out for yourself. You have come a long way from your first Intro Pole Class! We will start working on basic inversions, advanced sits, and inverted tricks. Combining your beginners pole spins and transitions with your new tricks will have you looking like a polished pole dancer!
POLE COMBOS • EXOTIC DANCE • CHOREOGRAPHY FOR POLE • OPEN PRACTICE
There's a wealth of options available at Studio 360 Pole Fitness and Dance, so don't be afraid to branch out into one of our other classes or show up for open practice alongside the rest of our members! Come see us in Jacksonville to see how Pole Fitness can change your life!
Don't Miss Out On Our Pole Fitness Program Here In Jacksonville!
We can't wait to show you what fun and fitness can look like when they're combined into one program. Our Pole Fitness workshops are perfect for women all across Jacksonville - all ages and experience levels are invited. There's no reason you shouldn't be proud of the body you're in and happy with the way you look... the first step in your journey is here at Studio 360 Pole Fitness and Dance.
Just fill out the short form below to get started!